"The CPI course is developed in the beginning of 2019 and consists of all my newest insights on the area. I do hope it will help you to accelerate the way you work with CPI, and that you will be able to optimize your workflow. 
- Daniel Graversen
Want to try the first three lessons for free? 
The content of the full course is 15 video lessons and some bonus material.  But if you want to see if the course is something for you, you can get a free access to the first three lessons: 
Why take the SAP CPI Course? 
Learning SAP Cloud Platform Integration (CPI aka HCI) can be a pretty difficult. In my course I will guide you through all the challenges, you will face. When buying the full course (97 EUR), you also get the following bonuses: 
Creating a real Integration to query SuccessFactors for new employees. This gives an excellent overview of how to create bigger integrations. Value 199 EUR. 
My Swipe file of Groovy Scripts. This will help you find a groovy script that solves your need really fast. Value 199 EUR. 
Full content of the SAP CPI Course
Module 1: Getting started
1 Introduction
2 First iFlow
3 Basic Operation
Module 2: Building
4 Content modifiers
5 Calling services
6 Flows
7 Content and Scripting
8 Mapping
Module 3: Communication
9 Adapters
10 Processing Direct
11 Cloud Connector
Connection to your standard system
Module 4: Advanced
12 Data store
13 Error handling
14 Testing
15 CPI on PO
Blog
Use this section to list the most recent posts on your blog on for example your home page.
One of my first university project with functional programming was to figure out how to calculate Fibonacci numbers. It is simple algorithms that recurse thru the values. It can be implemented pretty simple in a number of languages as seen on this blog. 
The function is as follows.
function F(n)
 if n = 0
 return 0
 if n = 1
 return 1
 else
 return F(n-1) + F(n-2)
It is a calculation intensive process because of all the recursion happening. If for instance you want to calculate F(15)...
We have a flow that spans our SAP PI/PO system and the SAP CPI(HCI) tenant. It would be really useful for users to be able to track how the messages are being processed. It would be nice if we could search on the business document or other values just as in SAP PI. That is not possible yet, but maybe sometime in the future.
So I have found two ways that make the tracking easier. There are the following fields that
Message Id
This is a unique name for each subprocess that is called. It seems...
So, this is a great story, I think! 
Yesterday, I received a message from Joost about converting json to xml on CPI. Because of the time difference, I did not answer him before today. I asked him to elaborate his question, and he replied that he had bought Figaf´s SAP CPI course and found all the answers.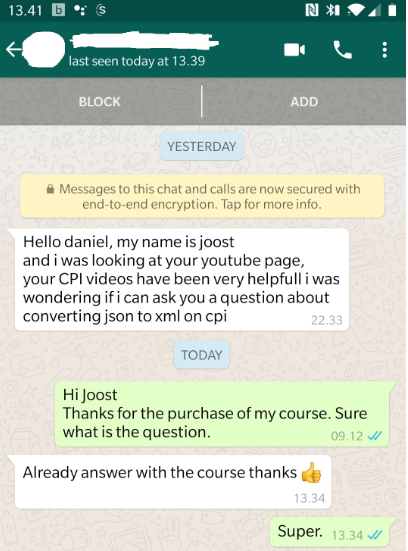 A message like this makes me very happy, and it confirms that Figaf´s SAP CPI course is very easy to use. 
Do you want to be smart like Joost? Then try...